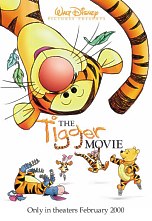 This is Tiggers first movie that is directed solely at him.
Here the hundred acre wood is the setting for the enchanted fun and adventure of this fabulous Tigger movie, and Tiggers great character in this movie will most definately make you smile!!!!
This movie is the first one that has been brought back to our screens in 17 years!!!

The characters from the hundred acre wood, have previously appeared in the theatre in four other features. These were the 1968 Adventure, "Winnie the pooh and the blustery day", this adventure was the one that actually won an academy award.

This was later followed by three more adventures, that were compiled in 1977 to make up the four part feature of the adventures.
All of these books have become very popular all over the world, and this is due to the excellent writing of A.A Milne and the fabulous characters that had been created, especially Tigger. We have to think to ourselves, what would our lives be like if we had never met Tigger?? Would another character have come bouncing into our lives, we have a lot to thank A A Milne for!!!!!!!!
Yes, you guessed it, this movie is completely about the life of Tigger(that's t i double guh errrr).
Well this movie is about Tigger going off on an amazing adventure. At the beginning of the tale, Tigger realises that being the "one and only" tigger can be kind of lonely. Even though he has made some great friends in hundred acre wood, he decides to go off on his adventure in the hundred acre wood in the searcg for the "biggest and most gigantical" family tree!!!!!
However, it appears that this search for his family does not turn up with anything, so Tigger becomes very saddened. So his friends then decide to cheer him up, they do this by dressing up as tigger costumes and pretending to be his family!!!!
But this does not seem to help Tigger, as it seems to make him want to find his family members even more. So, he decides to go and bounce off in a cold winter storm all by himself. When his friends realise what has happened, they form a search party to go and find him. In the end,tigger returns home, and it is at this point that he realises his family were there already, he realised that his family were his friends that loved and cared for him!!!!!

Tiggerific songs in the movie
In this gr8 movie brought to us by Walt Disney there are six new songs brought to us by Richard M and Robert B Shorman, who have previously written award winning songs and they are responsible for some of Disneys greatest hits!!!!
These writers along with the grammy winning song writer Kenny Loggins wrote a delightful and emotional ballad in the tigger movie, this was, "Your heart will lead you home".